Many people are mistaken for often thinking that we only offer our hog roast catering services for events, when in fact we like to give you the option to take part yourself. This is where our hog roast machine hire service is perfect for those who want to try their hand at hog roasting themselves. With our machines being suitable for professional and domestic use, both experienced chefs and a novice can hire our equipment and still produce outstanding results.
There's no better way to show off your cooking skills to friends, family or colleagues by hiring one of our powerful machines and roasting your very own whole pig or lamb. It certainly surpasses the average finger buffet!
Our Range Of High Quality Machines
Once you've made the decision that you want to hire a hog roast machine you want to know that you are hiring a reliable, professional machine that will produce the results you are looking for. The benefit of choosing a Spitting Pig machine is that our machines are of the highest stainless steel quality and have been designed by chefs to combat the problems that are caused using other hog roast machines. The machines that you can hire from us are very durable, reliable and easy to use. So much so that a professional chef and a first time hog roaster can still cook equally delicious hog roasts! Our machines do all the hard work for you.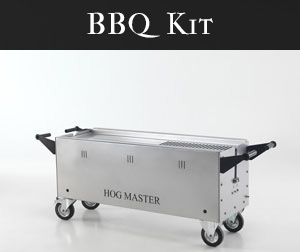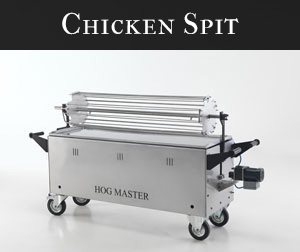 We want you to enjoy your hog roast Basildon hire experience from us, in fact we want you to love it so much that you can't wait to hire another machine again. (You may even decide that you want to purchase your own machine for either commercial or domestic use if you plan to become a regular roaster). As we want you to be successful we will ensure that the machine is delivered by one of our expert chefs who will take the time to give you an explanation of the machine, along with a few hints and tips that will leave you with the confidence you need to successfully produce a delicious meal for your guests.
More Than Just A Hog Roast
The capabilities of our hog roast Basildon machines are endless, with a little imagination and advice you can use the machine to create an array of meats, side dishes or use the machine as a fully functioning barbeque. You have the potential to provide your guests with an impressive selection of food, all freshly prepared.
Use the machine to cook a full pig or lamb along with jacket or new potatoes. Why not place the BBQ tray in and while your meat is cooking over a number of hours provide bacon and sausage rolls to your guests, a great breakfast option. Take advantage of our chicken spit attachment to create succulent, mouth-wateringly tasty chickens or turkeys. Our specialist machines also work as conventional oven and have even been known to cook pizza's!
We aim to make the hire process as easy as possible for you which is why we supply the gas with the machine and we can even include the meat for you too. If you prefer to source your own meat that isn't a problem as we have price packages suited to both options.
Flexibility is paramount when it comes to our hog roast hire service which is why we offer a variety of hire packages. We can offer day, weekend, week and even month packages to suit your requirements. Because we offer such a vast amount of packages, having your very own hog roast hire event is much more affordable than you might imagine. We aim to make hog roasting accessible to everyone and every budget, weather that be hiring your own machine, choosing our catering services or even purchasing your very own machine.
Contact us today to find out more information about our range of services and you can be having your very own Hog Roast Basildon feast.