A Hog Roast is a simple, cheap yet super delicious way of serving you and your guests. Whether it's for a wedding reception, private party in the garden, a charity event, corporate event, a hog roast can fit into any event perfectly. Especially Hog Roast Runwell's classic hog roast as it includes a vegetarian and vegan option as well for any guests that require this.
Even though Hog Roast Runwell's succulent pulled pork, tasty sage and onion stuffing and super crunchy crackling is a meal in itself, why not make it into a more substantial meal by adding salads and a potato option. By adding these side dishes on, you don't just get even more delightfully delicious food, you also get a free upgrade to eco-friendly bamboo plates and cutlery. A rustic vibe to a scrumptious menu.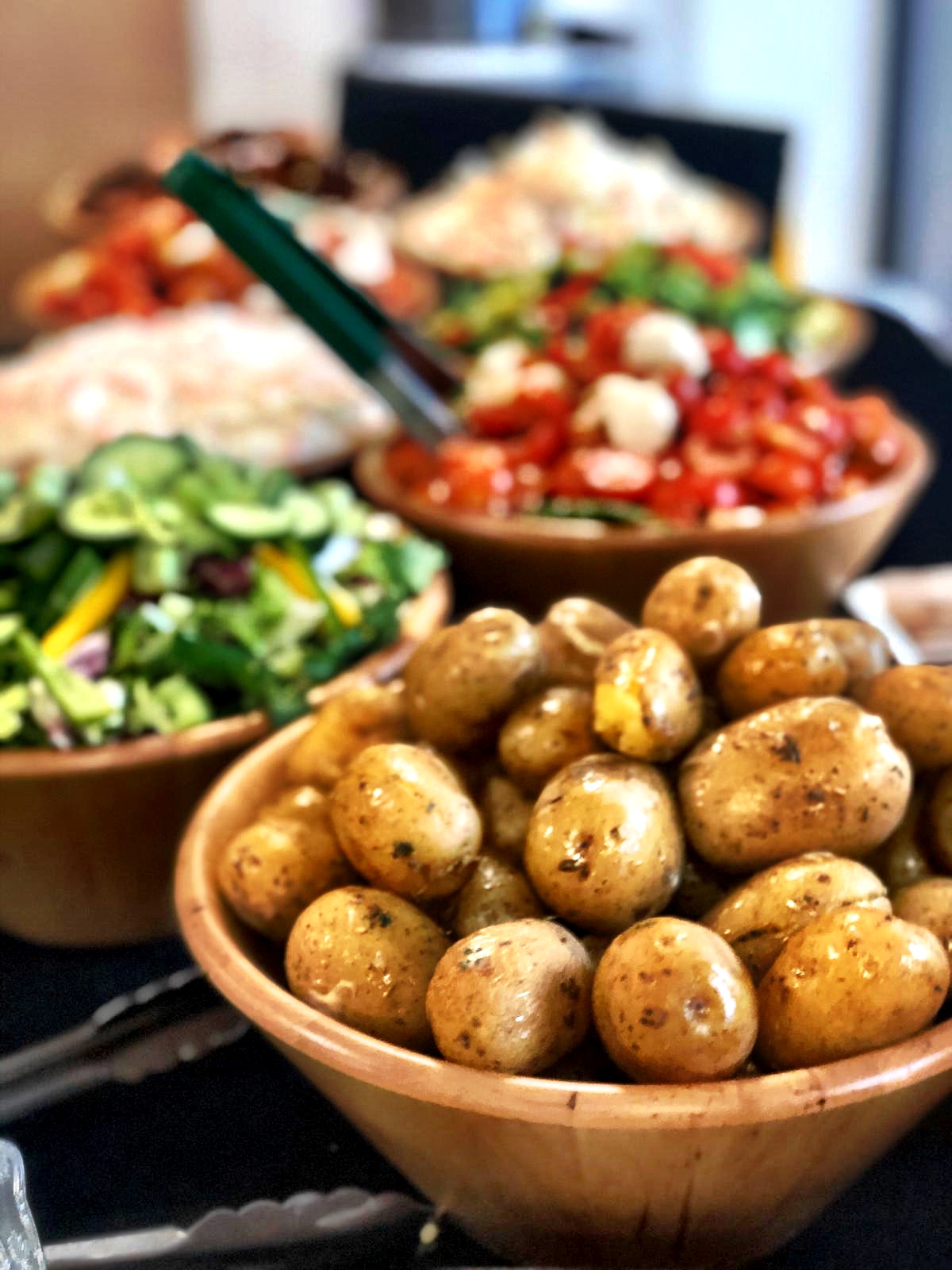 The optional salads include homemade coleslaw, tomato and mozzarella, mixed salad, or Caesar salad. The homemade coleslaw is particularly crunchy with a zesty finish, the tomato and mozzarella is inspired by the Italian-caprese salad using sweet cherry tomatoes rather than beef tomatoes with hand torn buffalo mozzarella and fresh basil leaves, the mixed salad is a medley of fresh lettuce leaves, cucumber and spring onions, the classic Caesar salad has crunchy Cos lettuce, garlic croutons, shredded parmigiana pieces, bacon pieces and anchovies drizzled with creamy Caesar dressing. All freshly prepared on site and all as equally delicious as the other.
Hog Roast Runwell has a super choice of potato options. Why not enjoy baby new potatoes in a blanket of herbed butter, or garlic and rosemary infused roasted new potatoes? They do chips whether that's original skin-on fries or sweet potato or even a medley of both! Or try the new potato options of summer 2021: creamy Dauphinoise potatoes or creamy new potato salad. You're in for a treat whatever you choose.
A classic hog roast is extremely delicious and filling, but if you want that something more then why not add any of the above side dishes on?