Hog Roast Foulness were delighted to be contacted by birthday girl Claire about the catering for her birthday, especially as she hadn't had one in four years! Yes, the client was one of those rare individuals who are born on the 29th February, a day that only occurs every four years. And the birthday girl wanted to make up for the years the universe had missed her special day.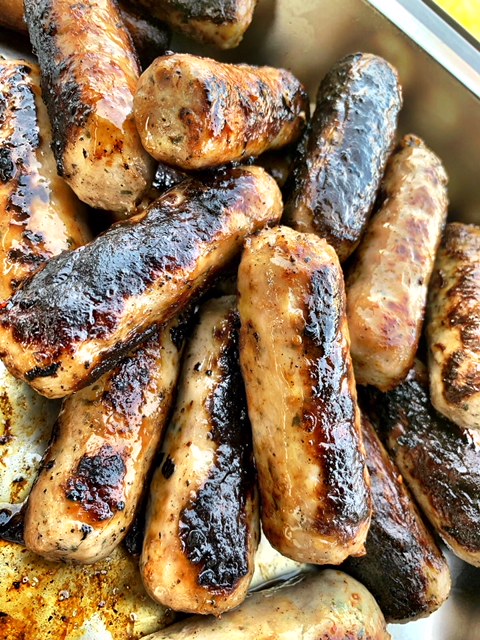 The client wanted a menu that would give her guests lots of energy so they could dance the night away! She worked closely with the team at Hog Roast Foulness to concoct a tasty list of dishes that would do just that.
The venue for the party was a village hall, meaning that the team would get to work indoors to create the wonderful food; a fact that the team were grateful for as the forecast for the day was wet and windy.  The serving time was set at 7pm and the client wanted to have the Hog Roast Foulness team supply the high quality, disposable crockery and cutlery for her 30 guests, which they did.
With the serving time set at 7pm a small catering team from Hog Roast Foulness arrived at the village hall at 1pm, so they had plenty of time to prepare and cook all the food fresh on site. The team produced platters of delicious offerings, including BBQ 100% Beef Burgers and Chef's own Gourmet Sausage, which are always a crowd favourite. Alongside these delicious choices there was: Thai chicken kebabs, meaty marinated spare ribs, jacket potato wedges, loaded fries and a whole host of tasty dips for the guests to try! And of course, there were freshly baked crusty bread rolls for the guests to enjoy.
When the buffet opened at 7pm the team were satisfied that they had done their very best, all the platters were perfectly prepared and offered the guests a wide variety of food to choose from. The birthday girl client was delighted too, the catering had been all she wanted and more, she just couldn't believe she'd have to wait another 4 years until she could celebrate on her birthday again!