Pleasing our clients is something we always strive to do and with our wide range of expansive menus that have been expertly curated to suit an array of different dietary requirements – not to mention our competitive rates – we are proud to have something on offer for everyone. So, whatever event you've got in mind, remember that Hog Roast Grays is here to help you turn it into an occasion that you and your guests will be able to look back on with fond memories for the rest of your lives!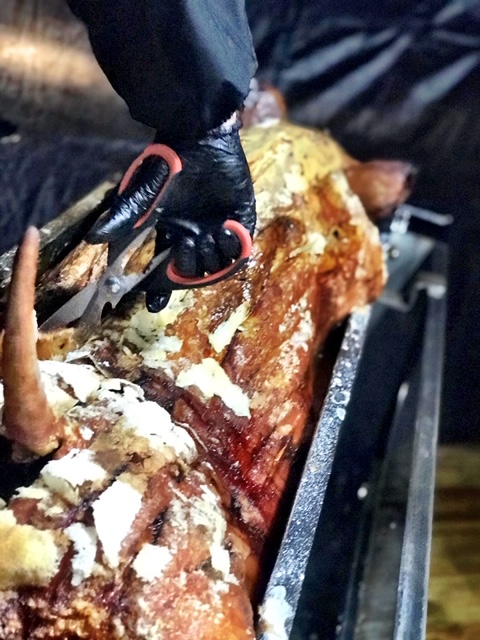 Just last weekend, our catering team was invited to help Giselle pull off an 18th bash for her daughters' milestone birthday which took place at Leybourne Village Hall. With 70 mouths to feed, Giselle was initially overwhelmed by the responsibility, but she was soon pointed in the direction of Hog Roast Grays and after talking with our catering manager Adam about plans for the evening, she embraced our classic hog roast menu which has remained a firm favourite among our new and returning customers alike for decades – and for good reason too!
Juicy carvings of slow roasted pork, crispy crackling and savoury stuffing drizzled with our homemade sweet applesauce is enough to drive anyone's tastebuds wild and with the meat-free alternative of colourful grilled vegetable skewers with optionable haloumi on offer for those following vegetarian and vegan diets, everyone was sure to feel welcome at this event. For those wishing to enhance the flavours of the main courses, Hog Roast Grays also added a freshly tossed mixed salad, soft-floured gluten-free rolls and wraps as well as warm new potatoes to the menu at the request of Giselle who wanted to ensure all of the guests were catered for.
The big day was a huge success and when the birthday girl arrived to see what her mum had spent the previous weeks planning for her, she was blown away!  Guests too were impressed by the range of delicious food on offer and taking full advantage of the spread that the catering crew had lovingly prepared for the evening, they each collected a piece of our eco-friendly wooden crockery and cutlery which they piled high with generous helpings from the buffet.