Hog Roast South Fambridge is often asked to cater weddings, with either a reception meal or a breakfast (or sometimes both!) and we can help you to plan the food that'll be featured on your special day regardless of what you may have in mind. We can help you bring your vision to life, whether you're thinking of having a small, intimate, formal affair with just a few friends and family attending or a huge, casual party with hundreds of people, or anything at all in-between, and with gorgeous food to suit everyone.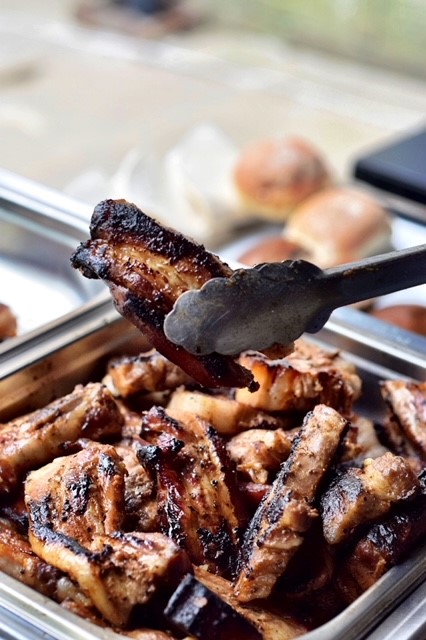 Your wedding menu is something personal to you, regardless of the formality of the occasion, and Hog Roast South Fambridge has a wide range of possibilities to cater with. You may choose to enjoy one simple yet stunning hog roast main and nothing else or you may prefer to have a great feast consisting of several scrumptious courses instead and either way, we've got you covered, with tasty options that can ensure that all of your guests can eat on the day, even if they prefer something different to our signature food or need alternatives due to dietary requirements.
In terms of mains, we can provide a hog roast centrepiece made into pigs in buns or a plated meal (the latter with your choice of seasonal vegetables and potatoes) or we can spit-roast chicken, turkey, beef or lamb if preferred. We have various standalone menus if you'd like a set menu that offers something that little bit different on your wedding day, like our three-course, Italian-style Alfresco, our Southern Slow Roast with three mains and four sides, our Barbecue that gives you plenty of different meats, salads and chips or our Loaded Fries, that come smothered in your choice of meat and slaw, as well as cheese and jalapenos.
For a multi-course menu created by you instead, you're welcome to select the dishes that you'd like from our many options of canapés, starters, sides and desserts, and that's whether you'd just like one or two or a great banquet to be served. Call Hog Roast South Fambridge today and we'll help you to plan your wedding day meal, with your own personalised touches.